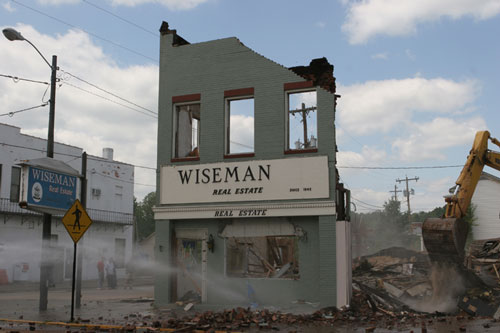 Founded in 1943, Wiseman Real Estate has been a part of the Gallipolis community for over 73 years. Ernest N. Wiseman and Hobart Wickline started The Wiseman and Wickline Agency selling both insurance and real estate. Eventually Wiseman bought the entire business from Wickline to establish it just as The Wiseman Agency.
A well respected figure from Cadmus, Ernest established a reputation for honesty and integrity that still resonates in the company's dealings and personifies the Wiseman name today. Active in the business until his later years, Ernest mentored son Ike, who helped the business grow into one of the leading brokerages in Southeastern Ohio. With the trade mark "Stetson", Ike became one of the area's beloved characters giving back to the community in many ways.
While keeping a mindful eye on the past, Wiseman Real Estate remains the leader in an ever changing market place. Heralding a third generation in real estate, David Wiseman heads a team of professionals that are energetic, knowledgeable and experienced.
Wiseman is a name that has always stood for honesty, integrity and good old-fashioned hard work. Together, our professional staff has over 125 years of combined real estate experience and are extremely dedicated to the best interest of their clients and customers. Through these years of experience we have been exposed to nearly every possible scenario and problem that can occur during a real estate transaction.
We have on staff 2 GRI (Graduate Realtor Institute) designees, one GRI in training and David Wiseman has obtained the CRS (Certified Residential Specialist) designation and is currently working on becoming a CRB (Certified Residential Broker). The ability to change with the needs of today's home buyers and home sellers, to provide complete professional assistance and to take an active role in the community we serve are but a few of the attributes that set us apart from others.
We know every nook and cranny of every part of this county. There is not a road in Gallia County that we have not traveled in our real estate dealings. Chances are, unless you live in a new home, someone from Wiseman Real Estate has been in your home at some time in the past. We have relationships with all of the area's employers, both big and small, giving us a step up on incoming job transfers, possible homes coming on the market and just a general idea of what the area economy is doing and how it is affecting the real estate market.
We have professional relationships with many outside relocation firms, trade organizations, and bank REO (real estate owned) departments that we derive many buyer and seller leads. We have also over the years developed extensive referral networks that are constantly providing us with new business.
We have great working relationships with all of the area's lenders, governmental authorities, attorney's, surveyors and appraisers which can be a deal saver while working through the many necessary steps of a real estate transaction.
With over 125 years of combined experience, there are very few situations that we haven't faced. Additionally, throughout all those years in the business, we have forged lasting and valuable relationships with the area's employers (both large and small), banks and lending institutions and governmental bodies and have gained extensive knowledge of the area and it's people. This "Gallia County know how" can be the difference between getting a deal done or watching one slip away. In short, the many years of serving Gallia County residents with their real estate needs has proven one thing... EXPERIENCE ISN'T EXPENSIVE, IT'S PRICELESS.
So, if you are looking for a Realtor you can trust to get the job done right and with integrity, give us a call or stop by our new office (tours are short and free!). We promise to continue the tradition that has made Wiseman a "HOUSESOLD" word in Gallia County. We love walk-ins and would really like the opportunity to show you just how much we know!
For Help Call Us!
We will be glad to help you with any of your real estate needs.
740-446-SOLD (7653)
We will be glad to help you with any of your real estate needs.

740-446-SOLD (7653)